How an App for Gamers Went Mainstream
How an App for Gamers Went Mainstream
Discord has become an indispensable tool for internet creators to connect with their fans.
Over the past few months, seemingly all the pet- and animal-themed Instagram accounts I follow have begun interspersing their videos with pleas. "Join our bird-themed Discord community!" one posted. Another urged me to connect with a group of like-minded reptile lovers on Discord. A commenter touted a dog-lover Discord server.
Discord is a real-time chat platform that was founded four years ago as a way to make it easier for gamers to communicate. But over the past year, it has outgrown its origin story and become the default place where influencers, YouTubers, Instagram meme accounts, and anyone with an audience can connect with their community.
After signing up for Discord, users join different servers. Each server functions as its own community, and it's very easy to toggle between them. Once you're within a server, you can hop between a long list of hashtag-marked channels on the left-hand side of the screen. Some channels are text-based, and some are group voice chats. Visually, Discord looks very similar to Slack.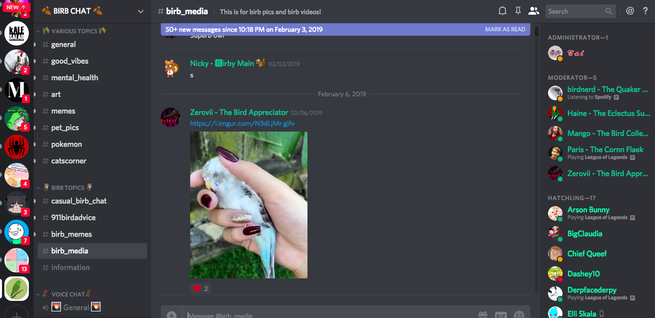 Discord is also highly customizable. Not only can servers have public and private channels, but administrators can also designate an endless series of roles to each user, all of which can come with custom privileges, colors, and name tags. Most server administrators designate roles to help moderate their communities. In addition to the group chats, Discord allows for global private messaging. You can add friends from any server to have a one-on-one conversation, without having to click into each server itself. It's like having an AIM buddy list at the top of the app.
Last March, Ninja, one of the most popular video-game live-streamers in the world, taught Drake how to use Discord while playing Fortnite. YouTube A-listers such as Philip DeFranco, Grace Helbig, and the Try Guys all have their own servers, and subreddits such as those dedicated to discussing The Bachelor and The Real Housewives have their own Discord groups too. More than 200 million people use the service.
Sara Dietschy, a YouTuber with nearly half a million subscribers, set up a Discord server for her fans six months ago after she noticed other YouTube stars offering them. "It's basically a free and easy way to have a Slack with your community," she said. But, she said, "Slack is for you to be productive at work. Discord is pretty much the opposite," she said.
Roberto Blake, an Atlanta-based YouTuber, compared Discord not to Slack but to "chat rooms from the 1990s." But, he told me, "they made that experience mobile and way more robust and sophisticated." In a social-media landscape organized around reverse-chronological feeds, profile pages, default public content, and follower counts, Discord is palpably different. As Mark Zuckerberg himself acknowledged in a blog post last week, users are desperate for a more privacy-centric social-networking experience—or maybe just to get away from what the journalist Hamza Shaban has called the "dystopian nightmare of having a permanent, searchable record of yourself online."
Discord is a rough draft of what that type of platform might look like. "Discord has always been an opt-in, private, chat-oriented product," Eros Resmini, Discord's chief marketing officer, told me. "It was interesting to hear Zuckerberg's comments because it sounds a lot like the way we've been thinking for a long time."
To join a server, users need a custom invite link, which allows admins and moderators to ensure that their chats aren't overrun by spammers or outsiders looking to troll. The real-time chat nature of the platform also makes it more intimate than a comment section. Comments on Facebook and Instagram are asynchronous, so you might not get a reply for hours. Discord feels like the best parts of group chat, amplified. It's also, consequentially, where teenagers feel comfortable just being themselves.
"Discord is the only place where I can hang out with friends and really feel like I'm hanging out with them," said Carson King, a YouTuber who first set up his Discord server two years ago. Many other influencers also say that before Discord, there was no way to effectively communicate with their community. Twitter is messy and public, and threads often get broken up and overrun by outsiders. Instagram DMs are difficult to manage and unsearchable, and public Instagram comment threads can get buried. YouTube comment sections are disorganized and overrun by trolls. Reddit is generally toxic. "Discord is the central platform for everyone. It's already the place you go to talk to people and about things you care about," said Matt Enloe, a lawyer in Chicago who helps moderate a popular Discord server for a productivity podcast.
It's also a place where you don't need a massive follower count to be heard. "Now with social media, everyone wants numbers, virality, to be popular. Discord takes that and does the opposite," Dietschy said. "It allows you to just hang out with the people you want to hang out with and interact with them in any way you want, whether it's voice, text, pictures, or anything."
King said that he also believes a big part of Discord's appeal is that there's no other platform that's all about just kicking back with friends. "The reason so many people are adopting Discord is because there's nothing else out there like it," he said. "Discord has just done such a phenomenal job of setting itself up in a way that benefits creators and everyone who enjoys those creators' content, whether or not they're into gaming."
Because Discord is a chat, not a feed, it's also free of the algorithms that creators so often bemoan. If influencers want to announce that they have a new video out, or promote a merch sale, they can post a message to everyone in the #announcements channel of their Discord server instead of posting about it on Instagram and hoping the post gets served to a wide enough portion of their audience.
"Having an independent third-party tool where you can have open dialogue and facilitate a conversation among your community is fantastic," Blake said. "Since it's independent from all your other platforms, you're not receiving any algorithmic penalties that [negatively] impact your content in any way."
Once a community is established with enough moderators in place, influencers also don't have to do tons of work to keep it going. Fans can bond with one another, which ultimately solidifies their bond with the influencer as the creator of that community. Many of the top YouTuber Discord servers include dozens of channels that have nothing to do with the YouTubers themselves. Blake's server includes a job board, a book club, and channels for talking about business and tech. The Discord group for one star-themed Instagram page has channels for users to talk about animals, share writing, compare Subway orders, and post pictures of their hands.
Discord doesn't provide an age breakdown on its user base, but several moderators say non-gaming Discord servers are dominated by the type of people who follow YouTubers and meme pages on Instagram: teenagers. People talk about school, dating, memes, and general teen anxieties. When I posted a question in the Discord server for Kale Salad, an Instagram meme page with more than 3 million followers, a teenager quickly told me not to expect a reply from anyone on there, since "pretty much everyone is in class right now."
Of course, as on any booming network, people are already trying to figure out how to make money on Discord. Plenty of influencers have already begun charging an entrance fee to their servers, paid through services such as Patreon, or making users pay for special access and privileges on their servers. Users in one popular podcaster's Discord community even designate roles by how much money each user gives each month. Discord currently does not receive a portion of this revenue. The company is adamantly focused on serving its core user base: gamers. Last year, it launched a storefront where the platform distributes games and other chat perks. Discord also offers a subscription service called Nitro, which gives users unlimited access to a growing library of games and enhanced profile features such as animated avatars.
As the company scales, it will also need to ensure that its platform isn't being abused. The FBI is already investigating Discord groups dedicated to cybercriminal activity, and some private groups are "being used by low-level hackers to share stolen data, like usernames and passwords," Forbes reported in January. White-supremacist groups and trolls have also used the platform to communicate and organize.
"Discord has a terms of service and community guidelines that all users are required to adhere to," a Discord spokesperson said. "Discord's guidelines cover more expansive activities than other platforms' rules and include activities such as doxing and sharing private information."
The influencers who have flocked to the platform also say that if anything, Discord provides a respite from the trolls they encounter on the broader internet. And many, such as Dietschy, have no plans to quit. The platform, she said, is the only way to "avoid the chaos of the internet."